Exway Riot ROMP Belts (FLEX, Wave, X1 MAX, X1 Pro Riot)
$14.95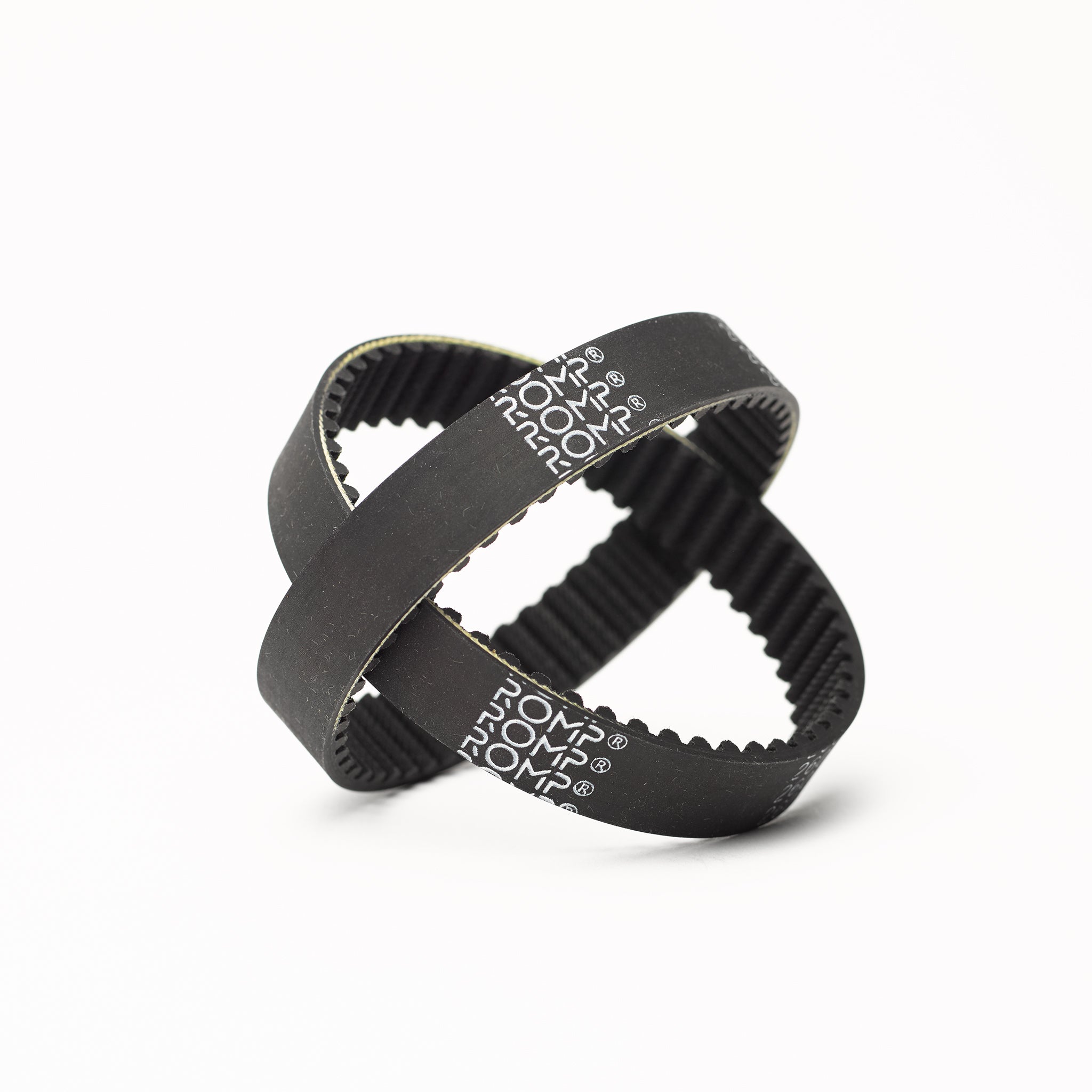 Curvilinear Tooth Profile Design: The tooth profile improves stress distribution and allows higher overall loading, resulting in reduced torque loss and increased power delivery to the wheels, ensuring fast starts and proper braking. 
Neoprene Body Construction with KEVLAR Reinforcement: The Neoprene body bonds the tensile members and provides protection against grime, grease, oil and moisture while the Kevlar Reinforcement provides superior tear strength and resistance to elongation. 
Tough Nylon Fabric Facing: The fabric facing covers the wearing surfaces of the belt, offering increased protection of tooth surfaces. 
Shear-Resistant Neoprene Teeth: The teeth are molded integrally with the Neoprene backing, providing increased body integrity.
100% Satisfaction Guaranteed Money Back: We are so confident in our product that we just want to get it in your hands! If you are not 100% satisfied with your purchase, simply return it within 14 days, no questions asked.
This product has been tested to be compatible with the Exway Riot belt drive systems found on the X1 Prio Riot, X1 MAX, Wave and FLEX models. 
Available Quantities:
2-Pack: Buy 2 Belts for $7.48 each

4-Pack: Buy 4 Belts for $6.74 each and Save 10%

8-Pack: Buy 8 Belts for $5.99 each and Save 20%

16-Pack: Buy 16 Belts for $5.37 each and Save 28%
*Please note, the boards pictured are for REFERENCE ONLY. The sale DOES NOT include a board. 
Poor quality material
Belts didnt even last for 60km ride. I think they cant stand spain hot summer temperatures. Both of them broke first ride.
Super fast shipping but belts are not lasting long
Ever since I initially snapped a belt on my Exway X1 pro I tried romp supply due to the cost of shipping through Exway. I can't go more than 20 miles without breaking a belt. I'm not sure if something is wrong with my board but I've now replaced every part on the rear truck and still belts are breaking off every 15-20 miles... One theory I have is the belts get stretched out and then are no longer tensioned properly and then break. It's weird because the construction of them seem really good and better than the original Exway belts
Great customer support and belts
I've decided to order from Romp rather then Exway because of shipping. I am based in Spain. Unfortunatelly, international shipping sucks during covid times and Romp could have not speeded up somehow... so after a almost 2 month without nothing I reached out to Romp to see whats up. Acording order status belts vere stuck in Spain customs borders so I was offered full money refund for extra delay. Today, I finally got my belts (almost 3 months after) and put them on Exway and works great! So long story short, if you are in US go for Romp 100%. If you are in Europe still consider Romp but be ready if some delivery delays happend due to UPS transport... but you can be sure that Romp will have your back if anything happens with your order. Thanks again, Jan.
Fast Shipping
Have not used the belts yet but 5 stars for fast shipping during COVID 3 weeks faster then from exway direct
Belt
After one drive we did have a few slight tears in the belt. We don't expect it to last long though it could be sticks hitting it and so on.